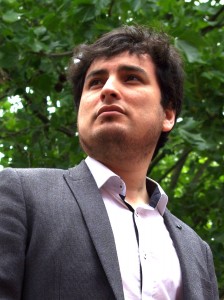 Born in 1981 in Lima, Peru, Juan Arroyo began his musical studies at the National Conservatory of Music in Lima. From 2004 to 2008 he studied with Jean-Yves Bosseur, Christian Eloy and Christophe Havel at the Regional Conservatory of Music of Bordeaux. In 2008 he entered the Conservatoire National Supérieur of Paris where he continued his studies with Stefano Gervasoni, Luis Naón and Michaël Levinas, and also obtained his Master's of Music Degree in 2013. In 2010, he studied with Brian Ferneyhough in the coposition trainig «voix nouvelles» in Royaumont. He participated in the IRCAM Cursus 2011-2012.
During his studies, Juan Arroyo participated in master classes dictated by Mauricio Kagel, Henri Pusseur, Alain Gaussin, Heinz Holliger and Brian Ferneyhough. All these meetings have marked his career. In search of new instrumental possibilities, the meetings with Marie-Bé Charrier, Antonio Politano and Jeanne Maisonhaute were influential. Alongside Luis Naón, Arroyo developed the ability to mix acoustic and electronic music. Under the guidance of the Italian composer Stefano Gervasoni, Arroyo began developing artistically into the composer who he is today.
He has been awarded numerous prizes including: Salabert Foundation Prize for "SELVA"; SACEM Prize in 2007 for his Concerto for accordion and orchestra; 2006 Auvers sur Oise Festival Prize, Second Prize of 6e Rencontres Internationales de Composition Musicale de Cergy-Pontoise. His works have been performed by ensembles such as Ensemble Linea, Proxima Centauri, Vortex, Tana string quartet, Red Note Ensemble, Prime Project, L'Arsenale, Artsound quartet, among others, and at renowned festivals such as Manca Festival, Archipels, Novart, Mixtur, Rhizome, Plug and La Chaise-Dieu. In 2013, he received a commission from the French Ministry of Culture for the piece called "SAMA", premiered by Proxima Centauri at Novart Festival.
Today, Juan Arroyo's aesthetic preoccupations have led him to investigate his mother tongue, and to take an interest in intervals and timbres of Pre-Columbian instruments. Much of his work consists in mixing two musically contrasting cultures, Western and Latin-American. The richness in the weaving of two cultures guides his research. In addition, electronic music and mixed works occupy a central role in Juan Arroyo's music.