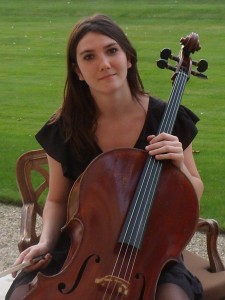 Myrtille Hetzel started out playing cello at the age of five. While a student at the CRR of Aubervilliers-la Courneuve, she wins a first prize of cello, awarded unanimously in Florian Lauridon's class in 2005. Thanks to her knowledge of music which includes among others the study of piano, analysis and harmony, she is accepted at the CNSM of Paris in 2007 in Jérôme Pernoo's class. She gets the CNSM Master of cello in 2011.
During valuable master classes Myrtille Hetzel has taken advantage of precious advices from Philippe Muller, Xavier Gagnepain, Roland Pidoux, Robert Nagy as well as Isvàn Varga. With her passion for chamber music, she worked in various formations with Claire Désert, Ami Flammer, Vladimir Mendelssohn, Daria Hovora, Michel Moragues, Philippe Bernold, David Walter, Jean Sulem… Consequently she has been awarded the second price of Fnapec European competition in April 2010.
Myrtille Hetzel has taken part in many festivals such as the Festival de La Roche-Posay, Les Musiques à Marseille, Sound of Stokholm, Morelia Festival, Bailu Festival, with personnalities such as Olivier Baumont, Philippe Bernold, Donatienne Michel-Dansac… Very interested in contemporary music, she participated in miscellaneous creations from composers like Mauro Lanza, François Paris (latest work for single cello), Analia Llugdar (world premiere of Juana, piece for three musicians and four dancers, in Monaco), and she played as part of the Ensemble Intercontemporain (Lucerne Festival 2013), Smash Ensemble, the Itinéraire ensemble and the Warning ensemble. Her multiples activities brought her in occur as soloist and as chamber musician worldwide: Spain, Portugal, Germany, Csech republique, China, Mexico, Suede… She is also regularly invited in the national orchestras in France such as Orchestre de l'Opéra de Paris, Orchestre National de Lille, Orchestre du Capitole de Toulouse…
She is a holder of the CA graduate CA (pedagogy) at the CNSM of Paris (2013).