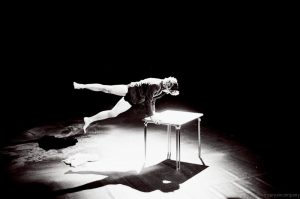 Zaryan founded the troupe, "Compagnie Vahram Zaryan". Its focus is the development of new mime and contemporary movement theater. Zaryan created the work, Confessions.[6][7] The work has been presented in France and across Europe. In 2010, it was performed at the official closing ceremony of International Mime Festival in Tsakhkadzor.
Soon after, Zaryan's work, Mater Replik played at L'Atelier du Plateau in Paris. It toured in Europe; in the United States at New York City's Richmond Shepard Theatre; and in Russia at La Tete en Bas. In 2012, Zaryan's company was staging the Noëlle Châtelet novel, The Head Down (2002) as a contemporary mime show.
In 2012 and 2013, the Vahram Zaryan Company was associated with Monfort Theatre, Cultural Institution of the City of Paris, and participated in projects funded by the DAC workshops and DASCO, City of Paris.[10]